Eating contests have been held for over centuries, with the first recorded win in history done by a man who beat a god by consuming his plate. Now, there are over 80 official eating contests, and most of these contests produced champions that certainly don't have god-like appetite, but still boast inhuman feats.
If you want to try your competitive eating skills to the test, buffet restaurants are the perfect place for you. Head on over to your local Wynn Buffet restaurants and start downing those cakes in water, because this list is a hard one to beat. Let's go!
1. Joey Chestnut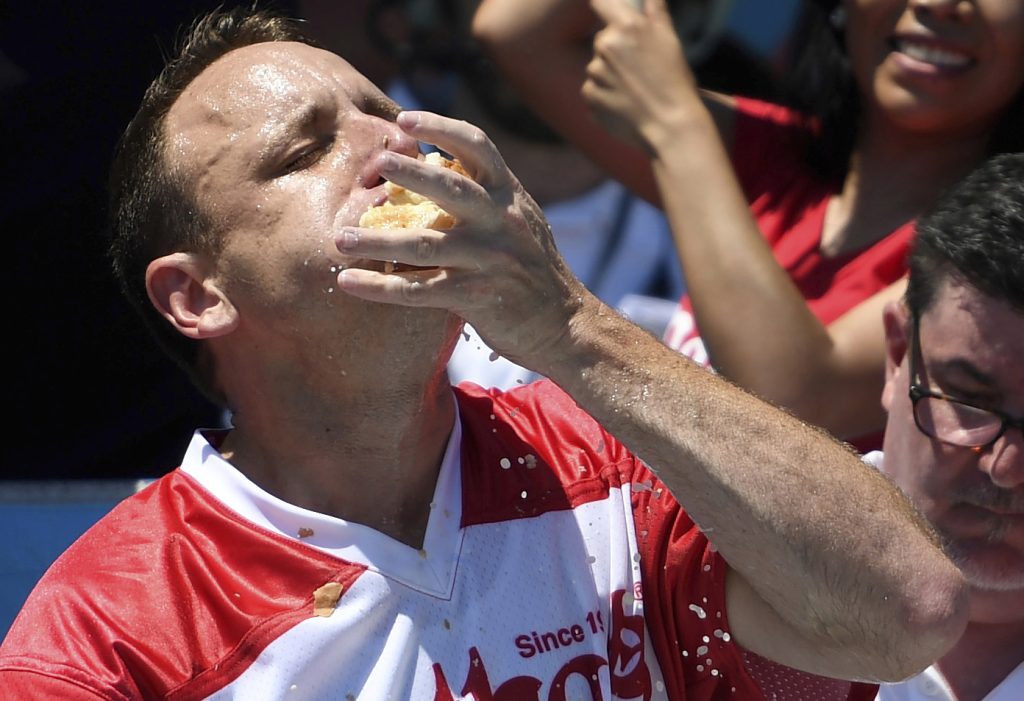 American-born Joey Chestnut made it to the top of the competitive eating world when he ate a world-record 66 hotdogs and 66 buns in just 12 minutes. In this contest, he was up against a roster of very hungry and competitive eaters, including Takeru Kobayashi.
He also beat this record again in 2009, with 68 hotdogs and buns. Seriously, how does he fit all that food in a human stomach? Joey says the secret is to drink lots of water a day before the contest to help it expand.
Despite being a competitive eater, Joey isn't overweight. He weighs a little over a hundred kilograms, and the number hasn't gone far, even when he first started competitive eating.
He went on to beat his record last year, consuming 76 hotdogs in 10 minutes.
2. Ashrita Furman
Okay, Joey Chestnut is a monster when it comes to competitive eating. He hasn't only eaten many hotdogs, he's also into competitive egg eating. However, the world record for the most eggs peeled and eaten in just one minute is 6, achieved by Ashrita Furman on March 23 2012.
6 eggs might pale in comparison to, say, 141 eggs in 8 minutes (thanks Joey), but the act of peeling it is time-consuming. Hats off to Ashrita for serving himself food.
Ashrita Furman actually likes creating world records for himself, and he has gone on to sports to achieve superhuman feats.
3. Takeru Kobayashi
It would be a disgrace to competitive eaters if we didn't include Takeru Kobayashi in the list. He's a strong contender when it comes to eating hotdogs, but what if we were talking about more exotic food?
Mr. Kobayashi set a world record when he ate 57 cow brains in just 15 minutes. While others might gag at the thought of eating cow brains, they're actually quite delicious. If you don't mind the slight cholesterol increase, help yourself to cowbrains.
4. Don Lerman
Speaking of cholesterol, what if we told you there's a record holder for the most sticks of butter eaten?
Don Lerman holds the world record for the most number of butter sticks eaten. He ate 7 sticks of quarter-pound butter in just 5 minutes.
While butter makes steak taste well, and it makes toast less boring, we're not sure if we want to beat Don Lerman's record.
5. Erik Denmark
For people who spend too much time in the seafood bar at a buffet restaurant, we've got good news! Keep at it and you just might beat Erik Denmark. He's the world's current title holder for the number of shrimps eaten.
Erik set this world record by consuming a total of 4 pounds and 15 ounces of shrimp in under 12 minutes. A committee on eating championships is currently reviewing his success, but still, it's a mighty feat to accomplish.
And if you have crustacean allergies, you better stay away from shrimps.
6. Cookie Jarvis
I scream, you scream, we all scream for ice cream! But not Cookie, because this competitive eater eats it like brain freeze is not a thing. Mr. Jarvis works as a realtor but in his spare time, he tries to beat other world record holders.
He has gone on to many eating contests, and he has more titles than any one in this list. He doesn't have a preference for food, and he has joined eating competitions for chicken, dumplings, potatoes, and grapes. If you ask us, we think this is a healthy diet.
You'd instantly know if Mr. Jarvis is in an eating contest – he has a fashion sense and he shows off his trench coat full of badges from previous eating contests.
Are you up for eating contests? Which food do you think you can handle (or eat)? Let us know in the comments section below.