Get Ready to Experience the Best of Morton's Steakhouse
In 1978, Arnie Morton and Klaus Fritsch opened the first Morton's Steakhouse in Newberry Plaza in Downtown Chicago. The two of them were working at the Playboy Club in Montreal, when Morton tasted the hamburger sample prepared by Fritsch.
Here's a list of Morton's Steakhouse menu prices:
Item
Price

Weekly Specials

Enjoy Morton's Specially priced offering every day of the week! No discounts offered on the Specials. THIS SAT (5.2) & SUN (5.3) Slow Roasted PRIME RIB SPECIAL Returns Due to High Demand BUT LIMITED AVAILABILITY ! Call your Local Morton's to PRE-ORDER TODAY!

Friday Dinner Special
$64.90
Lamb Chop Lollipop Quartet Special
$20.90
Monday & Tuesday Special
$53.90
Monday Special: Prime French Dip Sandwich with Fries
$16.50
Saturday & Sunday Prime Rib Special Dinner
$53.90
Sunday Special
$12.10
Sunday Special: Morton's Prime Cheese Burger
$12.10
Thursday - Saturday Dinner Special
$64.90
Thursday Special: Lamb Chop Lollipop Quartet
$20.90
Thursday Special: Wagyu Meatball
$20.90
Today's Special: 32 oz. Tomahawk Ribeye Steak
$75.90
Tuesday Special
$53.90
Wagyu Meatballs
$20.90
Wednesday & Sunday Special
$12.10
Wednesday Special: American Wagyu Burger
$14.30

Appetizers

Colossal Crabmeat Cocktail
$17.60
Jumbo Shrimp Cocktail
$21.07
Jumbo Lump Crab Cake
$16.68

Prime Steaks & Chops

42 oz.Prime Porterhouse
$55.00

Salads

Caesar Salad
$9.86
Center Cut Iceberg Salad
$11.00

Steaks & Entrées

All Steaks cooked to your desired Temperature

Broiled Ora King Salmon
$24.20
Center-Cut Filet Mignon
$27.50
Morton's Prime Burger, French Fries
$14.30
Jumbo Lump Crab Cakes
$31.14

Butters & Sauces

Steak Enhancements

Black Truffle Butter
$6.60
Blue Cheese Butter
$5.50
Cognac Sauce Au Poive
$5.50
Roasted Shallot & Balsamic Butter
$5.50

Seafood

Jumbo Lump Crabcakes
$8.80

Sides for Sharing

Steamed Jumbo Asparagus
$8.80
Sautéed Brussels Sprouts
$9.38
Grilled Jumbo Asparagus
$8.80
Creamed Spinach
$8.97
Baked Potato
$8.80
Matchstick French Fries
$8.80
Smoked Gouda & Bacon Au Gratin Potatoes
$8.80
Steamed Fresh Broccoli
$9.67
Bacon & Onion Macaroni & Cheese
$8.80

Prepared Sauces & Butters

Garlic Heb Butter
$4.40

Desserts

Double Chocolate Mousse
$6.60
Key Lime Pie
$7.11

Miscellaneous Items

"Black & Blue" Rub, 1oz.
$3.30
Balsamic Glaze, 3 oz.
$2.20
Porcini Rub, 1 oz.
$4.40
Potato Gnocchi, 1 lb.
$6.60
White Truffle Oil, 2 oz.
$8.80

Beverages

Coke
$2.20
Diet Coke
$2.20
Ginger Ale
$2.20
Sprite
$2.20

Butcher Cuts : Steaks, Chops & Seafood

*All items are Packaged in cryo-vac (raw/uncooked), and includes our signature Morton's Seasoning & our House-made Au Jus

10 oz. Prime Angus Sirloin
$16.50
12 oz. Center-Cut Filet Mignon
$29.70
14 oz. Angus New York Strip
$26.40
16 oz. Prime Boneless Ribeye
$33.00
16 oz. Prime Cajun Ribeye
$35.20
16 oz. Prime Double-Cut Pork Chop
$15.40
16 oz. Prime Signature Cut New York Strip
$30.80
21 oz. Prime "Chicago Cut" Bone-In Ribeye
$37.10
24 oz. Prime Porterhouse
$37.40
42 oz. Prime Porterhouse
$55.00
8 oz. SRF Wagyu, "Baseball Cut", Sirloin Steak
$22.00
8 oz. SRF Wagyu, "Denver Cut", Zabuton Steak
$33.00
8 oz. SRF Wagyu, "Gold Label", Manhattan Cut
$38.50
8 oz. SRF Wagyu, Coulotte Steak
$27.50
Chilean Sea Bass
$18.62
Cold Water Lobster Tail 5-6 oz.
$19.80
Cold Water Lobster Tail 8 oz.
$24.20
King Salmon Fillet
$13.20

Chef Kits

Morton's Specialties packed in cryo-vac (raw/uncooked) ready for you to pick-up, grill and cook in your home kitchen.

Crab Cakes "Fest"
$53.90
For The Grill Master
$141.90
For The Morton's Fanatic
$328.90
Home Cookout
$42.90
Shrimp Boil
$42.90
Table for Two
$64.90
The "Six" Pack
$108.90
Twin Tails
$31.90

Steak & Entrees

Cajun Ribeye Steak
$53.90
Broiled King Salmon Fillet
$24.20
Center-Cut Prime Ribeye
$51.70
Double-Cut Prime Pork Chop
$24.20
Morton's Prime Burger, House-made Potato Chips
$14.30
Signature Cut Prime New York Strip
$48.40

Burger Patties

10 oz. each (packed raw/uncooked) with Burger Buns.

Morton's Prime Burger Patties
$4.40

Morton's "Chef's Table" Home Kits

Crab "Cake" Fest
$53.90
Disclaimer: PriceListo gathers actual pricing information from sources such as on-site visits, business websites, and phone interviews. The prices reported on this webpage derive from one or more of those sources. Naturally, the prices reported on this website may not be current, and may not apply to all locations of a given business brand. To obtain current pricing, contact the individual business location of interest to you.
Morton's Steakhouse prices provided by
PriceListo
.
History
Morton was impressed by the taste, and so the two of them decided to open the restaurant. In 2011, the company was acquired by Landry's Inc.
Afterwards, its headquarters was moved to Houston, Texas. Currently, Morton's The Steakhouse has more than 70 restaurants in the United States and abroad, like Canada, China, Hong Kong, Mexico, Singapore, and Taiwan. Its further popularity can be attributed to the special events held in some of their locations, such as the 'Lunch with a Legend' series by ESPN, as well as 'Celebrity Server' events, which are fund-raising activities for local charities and foundations. Some of the celebrities invited at their restaurants were: Dwayne Wade, Dick Vermeil, Bobby Hull, Tony Stewart, Derrick Rose, Elgin Baylor, Larry Fitzgerald, Jack Nicklaus, Jonathan Vilma, Jim Furyk, and many more.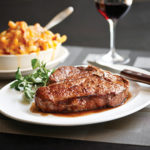 Their restaurants are perfect for private dining. They offer guests an alternative to the usual celebrations, and they ensure that the dining experiences of the guests are something to remember. Whether you're having breakfast, lunch, or dinner with your friends, family, or business partners, their quality of service will never fail you. An Event manager will make sure that all your needs are provided by their professional staff, and that you will be served their most popular dishes, like the luscious USDA prime-aged steak, mouth-watering appetizers, and scrumptious desserts. Enjoy their award winning wine list and be sure to browse through their wonderful wine selection.
To make a reservation, simply go to their website. You can fill out the reservation field to indicate the restaurant location, date, time, and party number.