Get Ready to Experience the Best of Morton's Steakhouse
In 1978, Arnie Morton and Klaus Fritsch opened the first Morton's Steakhouse in Newberry Plaza in Downtown Chicago. The two of them were working at the Playboy Club in Montreal, when Morton tasted the hamburger sample prepared by Fritsch.
Here's a list of Morton's Steakhouse menu prices:
Item
Price

Appetizers

Ahi Tuna Tower
$17.50
Maine Lobster Cocktail
$22.00
Jumbo Lump Crabmeat Cocktail
$17.50
Prosciutto Wrapped Mozzarella
$14.00
Short Rib Steak Tacos
$12.00
Broiled Sea Scallops
$19.00
Jumbo Shrimp Cocktail
$21.50
Half Dozen Oysters on The Half Shell
$18.00
Tuna Tacos
$14.00
Oysters Rockefeller
$18.00
Baked Escargot
$12.00
Jumbo Lump Crab Cake
$17.50
Jumbo Shrimp Alexander
$19.50

Morton's Prime Ocean Platters

Chilled (Per Person)
$25.00
Baked (Per Person)
$23.00

Soups & Salads

Baked Five Onion Soup
$12.00
Lobster Bisque
$15.00
Center-Cut Iceberg
$13.50
Caesar Salad
$11.50
Morton's Salad
$11.50
Sliced Beefsteak Tomato
$12.00
Chopped House Salad
$13.00
Chopped Spinach Salad
$10.00
Bibb Lettuce Salad
$10.50

Prime Steaks & Chops

Center-Cut Filet Mignon (12 oz.)
$50.00
Center-Cut Filet Mignon (8 oz.)
$45.00
Center-Cut Filet Mignon (6 oz.)
$39.00
Signature Cut Prime New York Strip (16 oz.)
$57.00
Center-Cut Prime Ribeye (16 oz.)
$47.00
Chicago Style Prime Bone-In Ribeye (22 oz.)
$55.00
Double Porterhouse For Two (48 oz.)
$114.00
Double-Cut Prime Pork Chop (16 oz.)
$30.00
Double-Cut Rib Lamb Chops
$48.00
Porterhouse Steak (24 oz.)
$57.00
Bone-In Veal Chop (16 oz.)
$49.00
Cajun Ribeye Steak
$49.00
Five Peppercorn Rubbed Prime Strip Steak (16 oz.)
$58.00

Upgrades

Bourbon Sauce Au Poivre
$4.00
Blue Cheese Butter
$4.00
Foie Gras-Cognac Butter
$4.00
Black Truffle Butter
$4.00
Make Any Steak "Oscar Style"
$12.00

Signature Dishes, Poultry, and Seafood

Chicken Christopher
$28.00
Chicken Bianco
$27.00
Honey-Chili Glazed Salmon Fillet
$35.00
Braised Beef Short Rib
$33.00
Shrimp Scampi Capellini
$29.00
Braised Beef Short Rib & Jumbo Sea Scallop "Surf & Turf"
$39.00
Shrimp Alexander
$40.00
Jumbo Lump Crab Cakes
$35.00
Baked Stuffed Jumbo Shrimp
$33.00
Chilean Sea Bass Fillet A La Nage
$49.00
Cold Water Lobster Tail (8 oz.)
$49.00
Jumbo Cold Water Lobster Tail (16 oz.)
$99.00
Alaskan King Crab Legs (Market Price)
$0.00

Mixed Grills

Filet Mignon with 3 Grilled Shrimp and 2 Bacon Wrapped Scallops (6 oz.)
$49.00
Fillet of Fresh Salmon Topped with Jumbo Lump Crabmeat with 3 Grilled Shrimp and 2 Baked Stuffed Shrimp
$49.00
Jumbo Lump Crab Cake with 3 Grilled Jumbo Shrimp and 2 Jumbo Shrimp Alexander
$49.00

Side Dishes for Sharing

Sautéed Broccoli Florets
$12.00
Grilled Jumbo Asparagus
$12.00
Steamed Jumbo Asparagus
$12.00
Creamed Spinach
$12.00
Creamed Corn
$12.00
Sautéed Brussels Sprouts
$12.00
Sautéed Spinach & Button Mushrooms
$12.00
Bacon & Onion Macaroni & Cheese
$12.00
Onion Rings
$12.00

Potatoes for Sharing

Jumbo Baked Potato
$12.00
Lyonnaise Potatoes
$12.00
Sour Cream Mashed Potatoes
$12.00
Chicago Style Horseradish Mashed Potatoes
$12.00
"Twice Baked" Au Gratin Potatoes
$12.00
Parmesan & Truffle Matchstick Fries
$12.00
Hashed Brown Potatoes
$12.00

Desserts

Fresh Raspberries or Mixed Berries
$13.00
New York Cheesecake
$14.50
Key Lime Pie
$14.50
Carrot Cake
$14.50
Double Chocolate Mousse
$14.50
Seasonal Fruit Crisp
$14.50
Haagen-Dazs Ice Cream (Vanilla, Chocolate or Raspberry Sorbet)
$8.50
Creme Brulee
$15.00
Chocolate Layer Cake
$14.00
Morton's Legendary Sundae
$18.00
Morton's Legendary Hot Chocolate Cake
$16.00
Souffle for Two
$19.50

Coffee

Morton's Coffee
$9.50
Irish Coffee
$9.50
Italian Coffee
$9.50
Spanish Coffee
$9.50

Bar Food Menu

Specially Priced Sunday - Friday, 4 pm - 6:40 pm and 9 pm to Close

$8 Bites

Iceberg Wedge Bites
$11.50
Fresh Cut Potato Chips
$12.50
Buffalo Chicken Goujonettes
$13.50
Parmesan Truffle Matchstick Fries
$14.00

$9 Bites

Crab, Spinach & Artichoke Dip
$17.00
Mini Crab Cake BLTS
$17.00
Tuna Tacos (Bar Food)
$15.00
Short Rib Steak Tacos (Bar Food)
$16.00
Filet Mignon Trio
$17.00
Prime Cheeseburgers
$16.00
Four Petite Filet Mignon Sandwiches
$16.00

Extra Bites

Morton's Prime Burger
$21.00
Prime Ribeye Steak Sandwich (9 oz.)
$32.00
Oysters on The Half Shell (Each)
$3.00
Jumbo Shrimp Cocktail (Each)
$4.75

Happy Hour Menu

Sunday - Friday, 4 pm - 6:40 pm and 9 pm to Close

Beer

Samuel Adams Seasonal
$5.50
Budweiser
$5.50
Bud Light
$5.50
Heineken
$5.50
Miller Lite
$5.50

Wine

Pebble Lane, Chardonnay
$7.50
Confini, Pinot Grigio
$7.50
Segura Viudas, Cava
$7.50
Pebble Lane, Cabernet Sauvignon
$7.50
Canyon Road, Merlot
$7.50
Colores del Sol, Malbec
$7.50
Pebble Lane, Pinot Noir
$7.50
Bex, Riesling
$7.50
Luccio, Moscato
$7.50
Eppa, White Sangria
$7.50

Cocktails & Martinis

Vodka Martini
$8.50
Gin Martini
$8.50
Cosmopolitan
$8.50
Palm Beacher
$8.50
Manhattan
$8.50
Mojito
$8.50
Camarita
$8.50
Disclaimer: PriceListo gathers actual pricing information from sources such as on-site visits, business websites, and phone interviews. The prices reported on this webpage derive from one or more of those sources. Naturally, the prices reported on this website may not be current, and may not apply to all locations of a given business brand. To obtain current pricing, contact the individual business location of interest to you.
Morton's Steakhouse prices provided by
PriceListo
.
History
Morton was impressed by the taste, and so the two of them decided to open the restaurant. In 2011, the company was acquired by Landry's Inc.
Afterwards, its headquarters was moved to Houston, Texas. Currently, Morton's The Steakhouse has more than 70 restaurants in the United States and abroad, like Canada, China, Hong Kong, Mexico, Singapore, and Taiwan. Its further popularity can be attributed to the special events held in some of their locations, such as the 'Lunch with a Legend' series by ESPN, as well as 'Celebrity Server' events, which are fund-raising activities for local charities and foundations. Some of the celebrities invited at their restaurants were: Dwayne Wade, Dick Vermeil, Bobby Hull, Tony Stewart, Derrick Rose, Elgin Baylor, Larry Fitzgerald, Jack Nicklaus, Jonathan Vilma, Jim Furyk, and many more.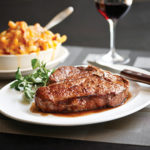 Their restaurants are perfect for private dining. They offer guests an alternative to the usual celebrations, and they ensure that the dining experiences of the guests are something to remember. Whether you're having breakfast, lunch, or dinner with your friends, family, or business partners, their quality of service will never fail you. An Event manager will make sure that all your needs are provided by their professional staff, and that you will be served their most popular dishes, like the luscious USDA prime-aged steak, mouth-watering appetizers, and scrumptious desserts. Enjoy their award winning wine list and be sure to browse through their wonderful wine selection.
To make a reservation, simply go to their website. You can fill out the reservation field to indicate the restaurant location, date, time, and party number.