A Taste of Authentic Churrascaria
Most churrascarias in the United States offer steaks made in the classic Brazilian way. Texas de Brazil is different. Their steakhouses combine Texas-style meats with Southern Brazilian cuisine. Founded in 1998 in Addison and Dallas, Texas, they now have multiple locations in the United States and abroad.
Here's a list of Texas de Brazil menu prices:
Item
Price

Salads

Potato Salad
$10.00
Hearts of Palm
$16.00
Tabouleh
$10.00
Steamed Asparagus
$10.00
Couscous Salad
$10.00
Pineapple Carpaccio
$10.00

Hot Sides - Dinner

Garlic Mashed Potatoes
$5.75
Sauteed Mushrooms
$11.00
Fried Bananas
$6.00
Lobster Bisque
$10.00
Brazilian Cheese Bread
$5.00
Jasmine Rice
$5.75
Feijoada Beans
$7.50
Potato au Gratin
$9.00

Meat - Dinner

Picanha
$18.00
Leg of Lamb
$18.00
Lamb Chops
$26.00
Filet Mignon
$24.00
Filet Mignon with Bacon
$24.00
Chicken Breast with Bacon
$9.00
Parmesan Drumettes
$9.00
Parmesan Pork Loin
$9.00
Herb-Marinated Pork Loin
$9.00
Barbecued Pork Ribs
$9.00
Brazilian Sausage
$9.00

Sauces & Dressings

Chimichurri Sauce
$1.50
Brazilian Vinaigrette
$1.50
Blue Cheese
$1.50
Ranch
$1.50
Disclaimer: PriceListo gathers actual pricing information from sources such as on-site visits, business websites, and phone interviews. The prices reported on this webpage derive from one or more of those sources. Naturally, the prices reported on this website may not be current, and may not apply to all locations of a given business brand. To obtain current pricing, contact the individual business location of interest to you.
Texas de Brazil prices provided by
PriceListo
.
History
You can find their properties in Alabama, Colorado, Florida, Illinois, Louisiana, Michigan, Nevada, New York, Oklahoma, Ohio, Pennsylvania, Puerto Rico, Tennessee, Texas, Utah, Virginia, Washington D.C., Aruba, Mexico, Trinidad and Tobago, South Korea, and United Arab Emirates.
To provide an exciting experience, servers dressed as cowboys serve the food in their restaurants. If guests want to get meat, they can use a piece of paper for that. They turn up the green side up if they want to get meat, and they turn the red side up if they don't want to receive it anymore.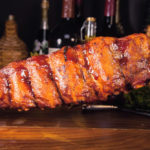 Their carvers generously serve various cuts of aged beef, pork, lamb, chicken, and sausage. These are all accompanies by traditional sides and house-baked cheese bread.
In their salad area, you can find a wide range of soups, salads, gourmet vegetables, and appetizers. Enjoy mouth-watering desserts, like crème brûlée, flan, chocolate mousse cake, bananas foster pie, key lime pie, carrot cake, pecan pie, papaya cream, coconut chess pie, and moscato berry tira mi su.
Their restaurants also offer a list of award-winning wines. The Santa Rita Vineyards in Chile exclusively make their private label wines. These wines are balanced, well-rounded, and created to exactly compliment their food.
Their fine dining restaurants are also open for reservations, private parties, and business events. Check their website and see how you can reserve a room for your party.
For more information, please visit their official website.