Savor the Taste of Ruth's Chris Steak House
In 1927, Chris Matulich, a New Orleans entrepreneur, founded Chris Steak House. During its first 38 years, the restaurant was sold six times. As the buyers failed to turn profit, Matulich was always able to buy it back. The business was acquired by Ruth Fertel in 1965, and renamed it to Ruth's Chris Steak House in 1976.
Here's a list of Ruth's Chris Steakhouse menu prices:
Item
Price

Salads

Steakhouse Salad
$9.09
Steak House Salad
$9.87
Ruth's Chop Salad
$11.28

Top Menu Items

Filet*
$47.70
Potatoes
$10.90
Vegetables
$10.89
Ruth's Classics
$46.84

Sides

Creamed Spinach
$9.68
Mashed Potatoes
$9.61
Sweet Potato Casserole
$9.95
Broccoli
$9.12
Green Chile Mac & Cheese
$9.00

Seafood & Specialties

Stuffed Chicken Breast
$33.80
Stuffed Chicken
$35.00
Sizzling Crab Cakes
$32.83
King Salmon Filet
$34.21
Chilean Sea Bass*
$44.20

Signature Steaks & Chops

Bone-In Filet*
$67.40
Bone-In New York Strip*
$65.80
Cowboy Ribeye*
$65.50
Lamb Chops*
$49.50
New York Strip*
$54.80
Porterhouse for Two*
$105.00
Ribeye*
$54.60
T-Bone*
$62.20
Tomahawk Ribeye*
$130.40

Appetizers

Seared Ahi Tuna
$19.43
Mushrooms Stuffed with Crab Meat
$15.89
Barbecued Shrimp
$22.79
Chilled Seafood Tower
$59.44
Spicy Shrimp
$19.04
Mushrooms Stuffed with Crabmeat
$16.86
Sizzling Blue Crab Cakes
$21.53
Barbecued Shrimp Appetizer
$18.90
Veal Osso Buco Ravioli
$16.23
Shrimp Cocktail
$19.78
Calamari
$18.00

Burgers & Sandwiches

All sandwiches are complemented with are hand cut french fries.

Steak Sandwich
$18.93
Lobster Mac & Cheese
$21.25

Signature Steaks and Chops

Cowboy Ribeye
$61.95
Petite Ribeye
$50.31
Lamb Chops
$47.61
Ribeye
$56.26
Pork Chop
$33.18
T-Bone
$58.81
Porterhouse for Two
$104.25

Potatoes & Signature Sides

Mashed
$10.82

Specialty Cuts

Bone in Filet
$66.71
Tomahawk Ribeye
$124.23
Bone in New York Strip
$63.56

Salads & Soup

Lettuce Wedge
$10.32
Fresh Mozzarella and Heirloom Tomato Salad
$13.00
Lobster Bisque
$11.15
Harvest Salad
$10.56
Ruth's Chop Salad*
$10.45

Potatoes and Signature Sides

Au Gratin
$11.21
Baked Potato
$10.41
Lobster Mac and Cheese
$21.09
French Fries
$10.06
Lyonnaise
$10.00
Shoestring Fries
$10.55
Lyonnaise Fingerling Potatoes
$11.00

Seafood and Specialties

Chilean Sea Bass
$43.46

Vegetables

Roasted Brussels Sprouts
$12.19
Grilled Asparagus
$11.65
Fire-Roasted Corn
$11.50
Fire Roasted Corn
$11.17
Cremini Mushrooms
$11.71
Fresh Broccoli
$10.42

Desserts

Cheesecake
$6.97
Bread Pudding with Whiskey Sauce
$9.75
Chocolate Duo
$10.60
Chocolate Chip Cookies
$1.50
White Chocolate Bread Pudding
$10.30
Fresh Berries with Sweet Cream Sauce
$10.32
Chocolate Sin Cake
$10.05
Fresh Seasonal Berries with Sweet Cream Sauce
$9.95

Drinks

Acqua Panna Natural Spring Water
$8.25
San Pellegrino Sparkling Natural Mineral Water
$8.25

Entree Complements

Shrimp
$16.23
Bleu Cheese Crust
$5.00
Disclaimer: PriceListo gathers actual pricing information from sources such as on-site visits, business websites, and phone interviews. The prices reported on this webpage derive from one or more of those sources. Naturally, the prices reported on this website may not be current, and may not apply to all locations of a given business brand. To obtain current pricing, contact the individual business location of interest to you.
Ruth's Chris Steakhouse prices provided by
PriceListo
.
History
Her steakhouse attracted a lot of loyal customers, including politicians, big businessmen, athletes, celebrities, and reporters. Thomas J. Moran of T.J. Moran Associates, a huge fan of the steakhouse, opened several franchises that started in 1977.
According to Fertel, they never looked for franchisees; the franchisees came to them. By 1998, their revenues have gone over $200 million every year, and currently, they have more than 100 stores in the United States. Because of her success, Feret was often described as 'The Empress of Steak' or 'The First Lady of American Restaurants.'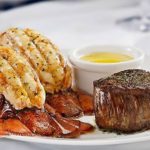 The restaurants' specialty is of course, steak—seared and sizzled to perfection to give that mouthwatering experience to those who will see, smell, and eat it. They also serve lamb, chicken, shrimp, lobster, and fish. On weekdays, they have the Sizzle, Swizzle, Swirl Happy Hour, so at a fixed price of $8, you can order from a selection of wines, cocktails, beers and bar food.
Do note however that restaurants never offer breakfast; some offer lunch, but most are open only for dinner. Furthermore, the dress code would be business casual, business, or dressy.
The locations are also open for private dining parties, as well as business events, where they provide business communications through satellite. And through the brand 'Ruth's Wedding,' you can avail of their outside catering for your (or your client's) wedding.
Check their website and get a glance of their delicious dishes.