If you want to know what it feels like to create and then eat your own pizza.
Have you ever tried making pizza from scratch? Maybe you want to put all your favorite toppings together on top of the large dough that you yourself created.
And afterwards, you'll put it in the oven, wait for it to be cooked perfectly (see the cheese sizzling), open the oven and be wrapped with the delicious aroma of bread, cheese, pepperoni, green peppers, onions, and sausage.
In reality however, you can find your arms aching from making the dough. The kitchen in disarray because of the flour and egg shells and the wrappings of your other ingredients.
By the time the pizza's cooked, you're still not finished cleaning the mess. And when you're ready to eat, you find out you no longer have the appetite because you've spent all your energy in this heroic endeavor. Or worse, the sausage or cheese you were able to buy wasn't that tasty, after all.
There are easier solutions to this, though. One, you can order from joints where you can pick-up uncooked pizza, which you can put in the oven when you get home.
You could choose the size and the toppings, and the staff will put it together, ready for you to take home after a few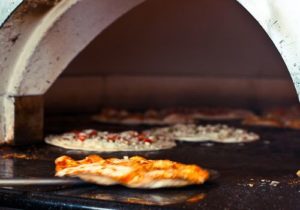 minutes. The next option is that you can go to a location like MOD Pizza, where you can combine the toppings that appeal to you.
If you're not sure what to choose however, they can give you recommendations, but the ultimate decision will be yours. Or, if you want to try their best sellers, that would be an option as well.
The good thing about MOD is that you can be rest assured that the quality of their ingredients are top notch.
They only choose the best raw materials so whatever combination you end up with, you'll still have a mouthwatering creation. Just to give you an idea, these are what you can put together:
Meat – pepperoni, Italian sausage, bacon, ground beef, grilled chicken, salami, Canadian bacon, anchovies
Veggies and good stuff – green bell peppers, spinach, artichokes, pepperoncini peppers, tomatoes, roasted red peppers, jalapenos, pineapples, red onion, mushrooms, black olives, sun-dried tomatoes, arugula, cilantro, seasonal roasted vegetables, croutons, roasted garlic, rosemary, chopped basil
Sauce – red sauce, white sauce, pesto, bbq sauce, garlic rub
Cheese – mozzarella, parmesan, gorgonzola, asiago, feta, dairy-free cheese