Enjoy Internationally Inspired Cuisine at Grand Lux Café
From the Founders of The Cheesecake Factory, the Grand Lux Café was created to serve cuisine inspired by the best dishes from Europe. The inspirations came from French bistros, pastry shops and grand cafes from Vienna, and Italian trattorias.
Here's a list of Grand Lux Cafe menu prices:
Item
Price

Popular Items

A Box of Warm Homemade Chocolate Chip Pecan Cookies
$9.17
Salmon Three Ways
$22.52
New Orleans Beignets
$9.31
Chili-Lime Chicken and Mango Salad
$13.53
Asian Short Rib Tacos
$9.03

Special Menu

Ricotta and Spinach Ravioli
$16.95
Seared Ahi Tuna Salad*
$22.50
Braised Pork Belly Bao Buns
$13.95
Shaking Beef
$21.95
Spicy Tuna*
$14.50
Chicken Samosas
$9.50
Crispy Chicken Bao Buns
$11.95
Crispy Vegetable Spring Rolls
$8.50
Ahi Tuna Poke*
$15.95
Ahi Tuna Tataki
$23.50

Lunch Specials

Bento Box- Chicken Supreme
$14.95
Bento Box- Chile-Crusted Steak
$15.95
Bento Box- Fresh Grilled Salmon
$15.95
Bento Box- Steak Au Poivre
$15.95
Soup and Salad
$10.41
Caesar Salad with Grilled Chicken
$16.10
Lunch Chicken Enchiladas
$13.95
Lunch Special B.L.T. Sandwich
$13.95
Lunch Special Chicken Salad Sandwich
$14.16
Lunch Special Fettuccini Alfredo with Chicken
$16.80
Lunch Special Pasta Carbonara
$14.50
Lunch Special Pasta Carbonara with Chicken
$16.80
Lunch Special Pasta Pomodoro
$14.50
Lunch Special Pasta Pomodoro with Chicken
$16.80
Lunch Special Turkey Sandwich
$14.23
Lunch Special Chicken, Mushroom and Brown Butter Pasta
$15.13
Lunch Special Cobb Salad
$14.47
Lunch Special Crispy Caramel Chicken
$15.13
Lunch Special Fettucini Alfredo with Shrimp
$19.65
Omelette
$14.15
Lunch Special Asian Chicken Salad
$13.39
Lunch Special Southwestern Salad
$13.43
Lunch Special Grilled Chicken and Avocado Salad
$13.43
Lunch Special Mendocino Salad
$12.95
Lunch Special Chicken Parmesan
$14.50
Lunch Special Lemon Chicken Piccata
$14.50
Lunch Special Cajun Chicken Jambalaya
$14.41
Lunch Special Fettuccini Alfredo
$14.50
Lunch Special Miso Glazed Salmon
$16.45
Lunch Special Simply Grilled Salmon
$16.45
Lunch Special Salmon Piccata
$16.45

Weekend Brunch

Short Rib Benedict
$15.95
Grand Lux Cafe French Toast with Strawberries
$14.47
Toast
$2.95
Whole Egg or Egg White Omelette
$14.33
Eggs, Any Style with Applewood Smoked Bacon
$13.12
Eggs, Any Style, Hash Brown Potatoes, With Toast
$9.20
Eggs, Any Style, With Ham
$13.20
Eggs, Any Style, With Link Sausage
$13.44
English Muffin
$2.95
Fresh Blueberries
$9.95
Fresh Garden Omelette
$14.29
Fresh Mixed Berries
$9.12
Fresh Raspberries
$9.12
Fresh Strawberries
$8.07
Fried Chicken Waffles
$17.15
Ham
$6.13
Hash Brown Potatoes
$5.12
Link Sausage
$6.12
"Sticky Bun" French Toast
$14.50
"The Best" Eggs Benedict With Ham & Hollandaise
$14.29
Bacon
$6.13
Breakfast Quesadilla
$13.95
Biscuits and Gravy with Eggs
$14.25
Florentine Omelette
$14.29
Huevos Rancheros
$13.12
DeLux Breakfast Sandwich
$13.07
Chilaquiles
$14.06
Lemon Poppy Seed Pancakes
$9.95
Grand Lux Cafe French Toast
$12.47
Belgian Waffle
$9.12
Belgian Waffle with Strawberries
$11.16
Belgian Waffle with Blueberries
$12.16
Fried Chicken and Waffles
$15.13
Breakfast Beignets
$9.25
Toasted Bagel
$3.64
Toasted Bagel with Cream Cheese
$5.25

Minis, Bites & Tapas

Crispy Calamari
$8.50
Mini Nachos with Chicken
$10.37
Sesame Crusted Asparagus
$6.95
Ahi Ceviche
$8.95
Mini Chicken Tacos
$7.32
Mini Crispy Fish Tacos
$8.52
Mini Lux Salad
$6.31
Mini Nachos
$8.35
Empanadas
$8.17
Mini Crab Cakes
$9.17
Poke Tacos
$8.95
Fried Pickles
$6.28
Warm Goat Cheese Salad
$6.95
Eggplant Parmesan Fritters
$6.95
Pot Roast Cheese Fries
$9.03

Appetizers

Buffalo Chicken Rolls™
$13.50
Double Stuffed Potato Spring Rolls®
$11.42
Chicken Lettuce Wraps
$14.02
Crispy Thai Shrimp And Chicken Spring Rolls
$13.24
Asian Nachos
$13.92
Frito Pie
$12.95
Prime Mini Cheeseburgers
$10.95
Stacked Chicken Quesadilla
$13.30
Volcano Shrimp
$13.15
Buffalo Wings
$14.48
Grand Fried Calamari
$15.19

Small Plates

Buffalo Chicken Bites
$8.37
Macaroni and Cheese Skillet
$8.19
Today's Soup
$7.95
Avocado Wontons
$9.95

Market Salads

Caesar Salad
$11.29
Caesar Salad with Chicken
$15.81
Wedge Salad
$11.98
Zucchini, Lemon & Parmesan Salad
$11.95
Chopped Salad
$14.15
Crispy Avocado Salad
$12.39
House Green Salad
$8.31
Greek Beet Salad
$12.95
Kale and Warm Grains
$12.25

Grand Delux Burgers

Served with a Mixed Green Salad or French Fries

Double Lux Cheeseburger
$14.88
Triple Lux Cheeseburger
$17.87
The Bacon-Cheese Burger
$15.30
The Chop House Burger
$14.75
Chili Cheeseburger
$14.95
Delux Drive-In Burger
$13.86
Grand Lux Burger Melt™
$15.28
Grand Lux Turkey Burger™
$14.95
Wood Grilled B.B.Q. Burger
$15.28
Avocado-Chipotle Cheeseburger
$15.28
Double Smashed Cheeseburger
$15.50
Impossible Burger
$17.50
Veggie Burger
$14.34

Starters

Mini Cheeseburgers
$12.01
Creamy Spinach and Cheese Dip
$13.50
Pot Stickers
$12.12

Sandwiches

Served with a Mixed Green Salad or French Fries

Spicy Buffalo Chicken Sandwich
$14.47
Spicy Flat Bread Chicken Sandwich
$13.95
Grand Club Sandwich
$15.39
Chicken Salad Sandwich
$13.34
Roast Turkey and Brie Sandwich
$14.39
Short Rib Grilled Cheese Sandwich
$15.34
BLT Sandwich
$13.21
Santa Barbara Chicken Sandwich
$14.95
Chicken, Bacon and Avocado Melt
$15.95
Crispy Chicken Sandwich
$15.95
Delux Cuban Sandwich
$16.23

Foods of the World

Crispy Caramel Chicken
$18.31
Thai Fried Chicken
$18.15
Chicken Enchiladas
$16.95
Spicy Ginger Beef
$20.57
Indochine Shrimp and Chicken
$20.50
Chipotle Chicken Delux Taco Platter
$15.95
Crispy Avocado & Vegetables Delux Taco Platter
$15.95
Crispy Fish Delux Taco Platter
$16.95
Beef & Chorizo Delux Taco Platter
$16.95

Grand Casual Cuisine

Garlic Chicken
$18.32
Chicken Parmesan
$17.78
Madeira Chicken
$20.31
Chicken Royale
$18.39
Salisbury Steak
$17.57
"Nashville Hot" Chicken
$17.95
Lemon Chicken Piccata
$19.58
Braised Pot Roast
$20.68
Cajun Shrimp and Chicken Jambalaya
$20.50
Bourbon Street Chicken
$18.66
Cafe Beef Wellington
$22.66

Pasta

Fettuccini Alfredo
$18.08
Fettuccini Alfredo with Chicken
$22.46
Baked Rigatoni
$16.95
Short Rib Ravioli
$20.10
Garlic Shrimp Pasta
$20.50
Pasta Carbonara
$18.03
Pasta Carbonara with Chicken
$22.41
Pasta Pomodoro
$15.87
Sunday Night Pasta
$20.86
Chicken, Mushroom and Brown Butter Pasta
$18.95
Fettuccini Alfredo with Shrimp
$24.95

Wood Grilled Steaks, Chops & Ribs

Parmesan Crusted Pork Chop
$22.46
Rib Eye Steak
$30.77
T-Bone Steak
$25.86
Filet Mignon
$31.27

Fish & Seafood

Jumbo Fried Shrimp
$22.31
Shrimp Scampi
$23.58
Wood Grilled Salmon
$22.15
Miso Glazed Salmon
$22.52
Cedar Planked BBQ Salmon
$22.52
Wood Grilled Bronzini
$21.95
Wood Grilled Red Fish
$21.95
Crispy Fish and Chips
$18.97

Kids' Menu

Ice Cream Cookie Sandwich
$4.15
Kids' Chicken Fingers
$7.67
Kids' Grilled Cheese Sandwich
$7.15
Kids' Grilled Chicken
$8.42
Kids' Grilled Salmon
$10.42
Kids' Hot Fudge Sundae
$4.15
Kids' Macaroni and Cheese
$7.65
Kids' Mini Cheeseburgers
$7.70
Kids' Pasta with Alfredo Sauce
$8.36
Kids' Pasta with Butter & Parmesan
$6.70
Kids' Pasta with Marinara Sauce
$7.70
Kids' Quesadilla
$7.90
Kids' Quesadilla with Chicken
$9.36
Kids' Strawberries
$3.61
Kids' Mini Burgers
$7.19

Side Dishes

French Fries
$5.15
Sweet Potato Fries
$6.15
Yukon Gold Mashed Potatoes
$6.15
Glazed Rainbow Carrots
$5.95
Crispy Glazed Brussels Sprouts
$6.15
Broccoli
$6.15
Green Beans
$6.15
Fresh Spinach
$6.15
Asparagus
$7.09
Roasted Carrots and Snap Peas
$5.95
Sauteed Mushrooms
$6.88
Steamed White Rice
$2.77
Brown Rice
$2.95
Glazed Carrots
$6.50

Desserts

Molten Chocolate Cake
$9.31
Warm Butter Cake
$9.35
Warm Rustic Apple Pie
$9.19
Key Lime Pie
$8.87
Red Velvet Cake
$8.87
"The Best" Carrot Cake
$8.87
Deep Dark Fudge Cake
$8.87
Warm Brownie Sundae
$10.13
Original Cheesecake
$7.87
Créme Brulee
$8.53
Fresh Strawberry Cheesecake
$9.32
Frozen Lemon Meringue Tart
$8.53
Salted Caramel Cheesecake
$8.87
Bag of Homemade Chocolate Chip Pecan Cookies
$3.95
GODIVA® Chocolate Cheesecake
$8.87
Double Chocolate Oreo® Ice Cream Sandwich
$9.50

Smoothies and Fizzes

Strawberry Fruit Smoothie
$7.90
Hawaiian Smoothie
$7.90
Mango Ice Swirl
$7.90
Blood Orange Soda
$4.95
Pineapple Mint Smash
$4.95
Passion Fruit Ginger Crush
$4.95
Coconut Limeade
$4.95
Sparkling Lemon Mint Cooler
$4.95

Beverages

Freshly Brewed Coffee
$2.53
Grand Lux Lemonade™
$2.78
Arnold Palmer
$2.82
Raspberry Lemonade
$3.39
Soda
$2.48
Strawberry Lemonade
$3.39
Tomato Juice
$5.18
Cranberry Juice
$5.18
Cucumber Lemonade
$3.39
Fresh Grapefruit Juice
$6.15
Fresh Orange Juice
$6.13
Herbal Tea
$3.68
Iced Tea
$2.48
Apple Juice
$5.15
Special Grand Lux Hot Chocolate™
$4.58
Disclaimer: PriceListo gathers actual pricing information from sources such as on-site visits, business websites, and phone interviews. The prices reported on this webpage derive from one or more of those sources. Naturally, the prices reported on this website may not be current, and may not apply to all locations of a given business brand. To obtain current pricing, contact the individual business location of interest to you.
Grand Lux Cafe prices provided by
PriceListo
.
History
The first restaurant, which opened at the Venetian Resort, Hotel and Casino in Las Vegas, wanted to provide the spirit and sensibilities of American restaurants, merged with the luxurious grandeur of European traditions. With locations in Florida, Illinois, Nevada, New Jersey, New York, Pennsylvania, and Texas, they promise guests an exceptional dining experience, from décor to dining.
The restaurants' menu is a world of food. You will find them inspired by Beignets from New Orleans, Pierogies from Poland, Ahi Ceviche, Asian Short Rib Tacos, and many more. Their popular dishes include Indochine Shrimp and Chicken, Crispy Caramel Chicken, wood-fired Certified Angus Steaks, slow-roasted Ribs, Braised Pot Roast, fresh seafood, and crisp salads.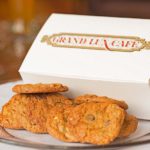 You'll love their deserts, such as Warm Homemade Chocolate Chip Pecan Cookies and Molten Chocolate Cake. No matter what taste in food you have, you'll find something delightful in their restaurants through the world-class cooking techniques of their chefs.
With Grand Lux Café, they don't only serve to fill your stomach, they also want you to fill your eyes with wonders through the rich interior designs of their rooms, as well as the artistic food presentations.
In most cafés you can find lavish textures and fabrics, polished table tops and marble floors, intricate mosaics, and hand-blown glass fixtures. The designs of the restaurants were made to arouse a feeling of individuality and eccentricity.
And to make the guests at ease, they make sure that their locations are cozy and comfortable. They have roaring fireplaces, warm wood paneling, inlaid leather seating, and colorful lamp shades.
For more information, please visit their official website.