Prices may vary by location and are updated frequently.
French Laundry: A Taste of France in the Napa Valley
The French cuisine is celebrated around the world. It is associated with fine dining and the smoothest of tastes in food and drinks. In Yountville, California, in the Napa Valley, you can find The French Laundry, a restaurant that has already received multiple honors, such as Best Restaurant in the World and Top 50 Restaurants of the World by restaurant Magazine, and awarded three stars in the Michelin Guide to San Francisco, among many others.
Here's a list of French Laundry menu prices:
Item
Price

Chef's Tasting Menu

Price is for The Nine-Course Meal, Not Individual Selections

Oysters and Pearls
$310.00
Smoked Wild King Salmon "Royale"
$310.00
Hoppin' John
$310.00
Pacific Shima Aji "Sashimi"
$310.00
Stonington Maine Sea Scallop "Poelee"
$310.00
Celery Root "Manicotti" (Chef's Tasting Menu)
$310.00
Ballotine De Poularde Aux Homard
$310.00
All Day Braised Snake River Farms Beef Cheek
$310.00
Gougere (Chef's Tasting Menu)
$310.00
Persimmon Pudding
$310.00
Vanilla Ice Cream
$310.00
K + M
$310.00

Tasting of Vegetables

Price is for The Nine-Course Meal, Not Individual Selections

La Ratte Potato "Chiffon"
$310.00
Hen Egg Custard
$310.00
Bosc Pear "Mosaic"
$310.00
Peas and Carrots
$310.00
Slow Roasted Garden Celtuce
$310.00
Celery Root "Manicotti"
$310.00
Garden Cabbage "Pierogi"
$310.00
Gougere
$310.00
Aptos Farm Kiwi Fruit
$310.00
Cream Cheese Ice Cream
$310.00
Chocolate Tart
$310.00
Disclaimer: PriceListo gathers actual pricing information from sources such as on-site visits, business websites, and phone interviews. The prices reported on this webpage derive from one or more of those sources. Naturally, the prices reported on this website may not be current, and may not apply to all locations of a given business brand. To obtain current pricing, contact the individual business location of interest to you.
French Laundry prices provided by
PriceListo
.
History
Chef and T.V personality Anthony Bourdain once called it 'the best restaurant in the world.' And to add to the prestige, its building is registered in the National Register of Historic Places.
Their team of chefs, with their vast knowledge, skills, experiences, trainings, and tools, manage the execution of the cuisine that they serve. They work hand in hand, like a well-oiled machine, to provide the best that the restaurant can offer. And in order to do this, they ensure that they hand pick the best ingredients they can possibly get.
They develop great relationships with their sources and suppliers to get the right raw materials. By providing the memorable experiences to their guests, they are able to elevate and highlight their suppliers' hard work.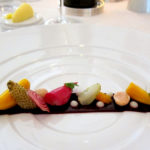 To show how serious they are with providing only the finest food and drinks, here are some examples of how they acquire what's on their menu:
Their supplier (Equator Coffee) gets the best coffees from around the world, from Indonesia to Panama. They fly across the country to just get the perfect coffee brew.
They obtain their dairy products (cheeses, butter, yogurt, etc.) from Soyoung Scanlan's Andante Dairy.
Their olive oils are handcrafted by Armando Manni's Manni Olive Oil.
Their high-quality milk comes from Diane St. Clair and her Animal Farm Dairy.
Check with website and call their number to make a reservation.
French Laundry YouTube